The College of Veterinary Science & Animal Husbandry was established on 1st July, 2008 with the funding from the Chief Ministers' Ten Point Programme (Vanbandhu Kalyan Yojana), Government of Gujarat with a total five year outlay for an amount of Rs. 62.62 crores under the flagship of Navsari Agricultural University by visionary Late Vice – Chancellor Dr. R.P.S. Ahlawat. The proposal for the new college was prepared by the day and night efforts of Dr. P.M. Desai, Late Dr. G. S. Rao, Dr. V.B. Kharadi and Dr. V.S. Dabas along with the help of other staff members. The college was renamed as Vanbandhu college of Veterinary Science and Animal Husbandry in year 2010-11 as the college is under Vanbandhu Kalyan Yojna. Veterinary College in the South Gujarat region caters the necessity of livestock farmers / owners and pet owners especially of tribal region of South Gujarat.
Genesis/History
The college building was inaugurated on January 1st, 2012 by Padma Vibhushan Dr. M.S. Swaminathan, in the solemn presence of erstwhile Hon. Min. Shri Dileep Sanghani (Minister, Agriculture and Co-operation, Gujarat state) and Hon. Min. Shri Mangubhai Patel (Minister, Forest and Environment, Gujarat state). The college building has been constructed in the 12000 Sq.Mt. area at the approximate cost of 14.5 crore. The college main building is divided in to five blocks, mainly 'A block' which is administrative building, B, C and D blocks, which has 13 departments and E block, which has four class rooms, two examination halls, a library room, an exhibition hall etc.
All the departments and class rooms are having permanently fixed LCD projectors with wi-fi internet facility. All the departments and administrative blocks are also well equipped with computer and internet facilities. CCTV, Shalihotra Conference Hall, RO water, computer room for students Teaching Veterinary Clinical Complex was started on 1st Oct., 2009 by Hon'ble Shri. Dileep Sanghani, Minister for Agriculture Cooperation, Animal Husbandry, Fisheries and Cow breeding and Hon'ble Mangubhai Patel, Minister of Forest and Environment and Tribal Development Department of Government of Gujarat in presence of Member of Parliament Hon'ble Shri C. R. Patil for learning of the students as well as to cater the animal owners of surrounding area. The separate building is being inaugurated on 53rd Gujarat Gaurav Din 1st May, 2013 as Clinical complex. All the clinical departments viz., Veterinary Surgery, Veterinary Medicine, Veterinary Obstetrics and Gynecology and Teaching Veterinary Clinical Complex will be started working in this building with state-of-art infrastructural facilities as a referral animal clinic.
To impart the practical training for animal husbandry practices, the facility of ILFC is being developed. Besides this, well established Livestock Research Station since more than four decades ago imparts practical training to undergraduate, postgraduate and doctorate students including facilities for undertaking their dissertation research for award of their degrees.
Objectives
The principal mandate of the institute is to impart Veterinary and Animal Husbandry education at under-graduate, postgraduate and doctorate levels.
To carryout research in Veterinary and Animal Sciences as per location specific needs to evolve relevant package of practices.
Effectively Collaborate in the transfer of technology applicable to animal health / production practices and recommendations suitable to the tribal belt of South Gujarat.
To educate students of tribal area in the field of Veterinary Science so as to improve their family livelihood.
Mission
"Building Navsari Agricultural University as most reputed Knowledge Power Centre of the country in the field of Agriculture and its allied science including Veterinary Science. To establish an international-class institute in the field of Veterinary Science & Animal Husbandry by imparting quality higher education, developing technologies through innovative research and effective extension activities to ensure adequate availability / supply of technical man power and technologies to thrive in global competition and also to play a pivotal role in socio-economic development in the country with special reference to tribal people with an aim to uplift socioeconomic status."
Goals Of The College
To impart best of the knowledge to the students
To carry out applied as well as basic research
To transfer the technology / latest research with respect to veterinary and animal husbandry practices to grass root level
To become one of the best veterinary college of India
To adapt Vansada Taluka of Navsari District and double the income within 5 years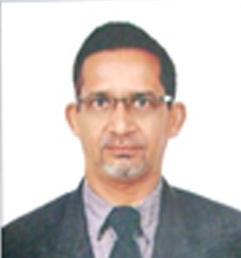 Dr. Vishnuprasad Bhikhalal Kharadi
I/c Dean – Principal
College Of Veterinay Science And Animal Husbandry Kamghenu University, Navsari – 396 450, Gujarat
Permanent Address
201,Utsav Appartment, Opp. Bhatt Travels,
Dadangwad, Navsari- 396 445
Present Address
Navsari Agricultural University Campus,
Eru Char Rasta, Dandi Road,
Professional Brief
A self-motivated, dynamic and versatile person with unmatched enthusiasm and excellent and consistent academic track record.
Serving the State Agricultural University set-up since August, 1985 starting with Gujarat Agricultural University at Anand then from February 1989 at Navsari campus, GAU followed by Navsari Agricultural University on various posts.
Over 35 years Full Time rich and varied experience of research, extension education and teaching activities in the SAUs of Gujarat.
Served the SAUs of Gujarat in various capacities in the University System and developed holistic understanding of working pattern of the university system.
Pioneered the establishment of the Vanbandhu College of Veterinary Science & Animal Husbandry under the flagship of NAU, Navsari in 2008 as per the norms of Veterinary Council of India.
Extensively contributed to the non-academic domains and thereby assisted in polishing the image of the SAUs of Gujarat by effectively serving as the Treasurer in SRC (6 years), Livestock Farm Manager (22 years) and Drawing & Disbursing Officer (15 Years).
80+ Research Publications/Presentations at the National & International Forums; and even won "Best Research Paper / Presentation Awards" at the National Levels.
Successfully organized 100+ Training - Development programmes /Camps for the upliftment of the framing community.
Well conversant with Gujarati, Hindi and English language with sound rapport with the society at large.
Academic Credentials
| Sr. No | Degree | Year of passing | Name of Board / University | Class percent | Remarks |
| --- | --- | --- | --- | --- | --- |
| i. | Bachelor's Degree | 1985 | GAU, SK Nagar | 2.58/4.00 | Second Class |
| ii. | Master Degree | 1989 | GAU, SKNagar | 7.21/10.00 | First Class |
| iii. | Doctorate Degree | 1995 | TANUVAS, Madras | 9.2/10.0 | First Class |
| iv. | Computer course CCC+ | 2007 | SPIPA | 74.0% | CCC+ |
Experience Profile
Sr.
Cadre
Teaching
Research
Extension
Administration/HOD/DDO
U.G.
P. G.
i.
Below Assistant Professor and its equivalent
-
-
3 Years & 10 months
-
ii.
Below Associate Professor and its equivalent
2 Yr
-
9 Years
5 Yr
iii.
Below Professor and
its equivalent
2 Yr
4 Yr
8 Years
7 Yr
iv.
Professor and its equivalent
6 ½ Yr
13 Yr
7 Yr
13 Yr
3 ½ Yr DDO
6 YR HOD
v.
I/C Dean – Principal
( From 26/10/2018)
-
2.5 Yr
2.5 Yr
2.5 Yr
2.5 Yr
Awards Appreciations And Achievements
Senior Research Fellowship award from Council of Scientific and Industrial Research (CSIR), New Delhi in 1992.
Best Teacher Award for 2012-13 received from Dr. Kamla Beniwalji, Governor of Gujarat at 9th Convocation, Navsari Agricultural University on 03.01.2014.
Prof. J. P. Trivedi Award sponsored by Hari Om Ashram, Nadiad for Scientific contribution by Gujarat Association for Agricultural Sciences (GAAS) in 1995
Hari Om Ashram prerit Shri Bhaikaka Inter University Smarak Trust for Scientific contribution by Sardar Patel University, Vallabh Vidhyanagar in 1995.
Prof. Nil's Lagerlof Memorial Award- 2003 for best paper by The Indian Society for Study of Animal Reproduction in 2003.
Best Paper in National Seminar by Navsari Agricultural University, Navsari in 2009.
Best Paper in National Seminar Oral Presentation by Indian society of Animal Production & Management in 2014.
Best Paper in National Seminar Poster presentation by Indian society of Animal Production & Management in 2014.
Worked as Organizing Secretary for a State Level Seminar on "Measures to control economic losses in Dairy animals" on 13th March, 2009.
Appreciation by Vice chancellor for active participation in Krushi Mahotsav-2008.
Appreciation by Vice chancellor for publication of Gujarati books for farmers
Appointment as member of moderation committee moderator by ASRB, New Delhi for ARS/NET Examination in Animal Genetics and Breeding.
Member of Academic and Agricultural Research Council of NAU.
New Project/research Scheme Conducted Through Icar
A net work project on survey, evaluation and characterization of Surti buffalo sponsored by NBAGR, Karnal.
AICRP on Goat Improvement – Surti field unit by CIRG, Makhdum, Mathura.
Member In Scientific Bodies
Society for conservation of Domestic animals biodiversity, Karnal.
All Gujarat Veterinarians' Social Security Trust, Ghandhinagar.
The Indian Society of Animal Genetics and Breeding, New Delhi.
Gujarat Veterinary Association, Ghandhinagar
Indian Society of Buffalo Development, Hissar
Personal Details
Birth Date and Place : 03/03/1963 at Himmatnagar, Dist. Sabarkantha
Marital Status : Married
Category : General
Language Prolificacy : Gujarati, English, Hindi.